Lepakshi is an Indian origin name that means "with painted eyes". It is most often used as a girl/female in Indian, Sanskrit, Telugu. To know where Lepakshi is, Lepakshi is a village in Anantapur District of Andra Pradesh, India. People worldwide visit the Lepakshi temple of Virabhadra to get his blessing and admire the temple's inscription. It is located to the east of Hindupur and the north of Bangalore. Lepakshi is culturally and archaeologically significant.
The shrines' location is dedicated to Vishnu, Shiva, and Virabhadra, built during the Vijayanagara Empire period, 1336–1646. The temples are at the location of mural paintings of the Vijayanagara kings and Telugu inscriptions. According to the Hindu mythology book Ramayan, a part of the "Sita Haran" means Kidnapping of Sita.
It says, "When Ravana was kidnaping Sita, Jatayu the bird, tried to save Sita from him and fought for her safety in such a way that he got injured badly, that's when Ram saw Jatayu injured he said "Lepakshi" which means "Get up the bird." " This is how it was introduced, and that is how the temple was named Lepakshi.
History of Lepakshi
The temple is dedicated to Virbhadra, a fierce emanation of Lord Shiva. Being one the oldest and holiest places in Indian, tourists visit this place from all over the world to Bangalore. It says knowing the importance of the place; king Achutraya ordered his governors to build this temple. It was built in 16 century AD by Virupanna Nayaka and Viruanna; both were brothers who worked as governors under the Vijayanagar Empire during his reign at Penukonda.
The government defrayed the cost of building the temple. According to Skanda Purana, this temple is one of the divyakshetras, an essential pilgrimage site of Lord Shiva. The temple contains the fresco paintings, detailed in very bright dresses and colors with Rama and Krishna's scenes from epic stories of the Ramayana, the Mahabharata, and the Puranas. They are very well preserved here. The whole architecture of this temple is not complete.
During that century, when this temple was under Construction, somebody allegedly said that one of the architects, Virupanna, used the empire's treasure for building the temple. The king, without any inquiry, decided to take off Virupannas's eye; hearing this decision, Virupanna felt bad, and he himself took off his eyes. And that is the reason they say it's not complete.
The temple consists of 70 pillars, and the most amazing thing is that the most important pillar on which the whole structure is supported does not touch the ground. There is a huge Nandi (bull), the mount of Shiva, about 200 meters (660 ft) away from the temple, carved from a single block of stone, which is said to be the largest of its type in the world.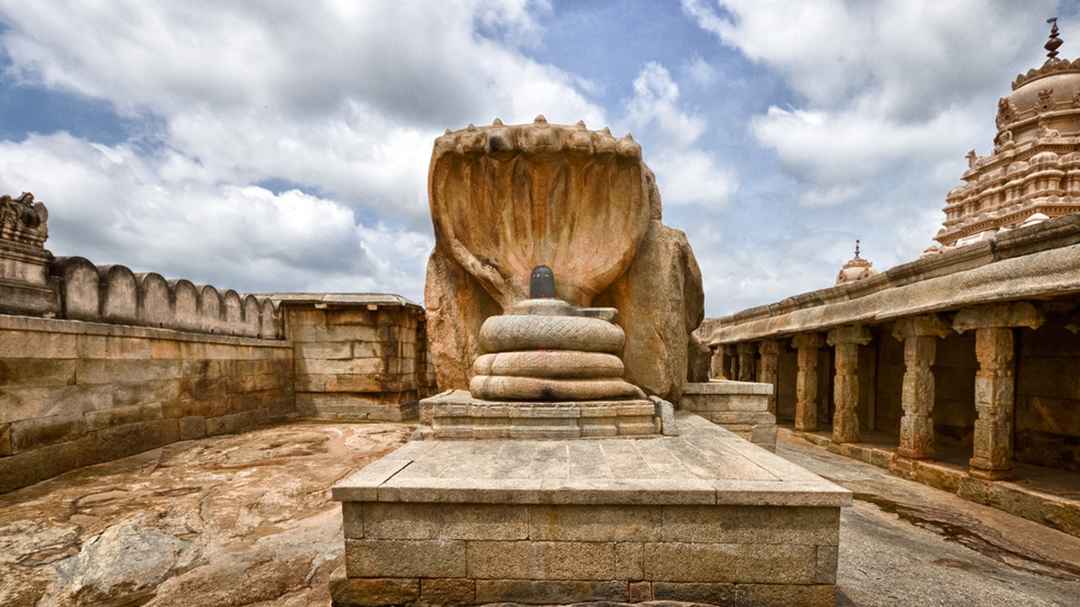 How to reach
Thinking of visiting this historic temple, then here's how you can reach here. Lipakshi is located in the Anantapur district of Andra Pradesh, India. It is 140 kilometers that are 87 miles away from Bangalore. It will not take much time to reach Lepakshi from Banglore or Penukonda.
The approach from the National Highway NH7 to Hyderabad takes a branch road at the Karnataka-Andra Pradesh border leading to Lepakshi, which is 12 kilometers that are 7.5 mi away. It is located to the east of Hindupur and the north of Bangalore. The temple has been built on the south side of Lepakshi town, on a low altitude hillock of extensive exposure of granite rock, which is in the shape of a tortoise and hence known as Kurma Saila. It is situated 35 kilometers/ 22 mi from Penukonda Anantpur district, Andra Pradesh.
Lepakshi Handicrafts
A lot of handicrafts are available online, which are made available by the states' government itself. It's expensive to buy it for your home decor as it is an ancient and historical monument. People also use the sculpture, the art inscribed on the temple, to increase their business and earn their wages.
Lepakshi is an Andhra Pradesh Government Enterprise Kalyana Balaji Handicraft Neem Wood. This is an all-natural hand-carved wooden sculpture and NOT resin, plastic, faux stone, or other synthetic material. This Ganpati idol's magnificent form creates peacefulness, harmony, and spiritual ambiance filled with positive energy around us. The statue has been hand-carved. It is made up of 100% pure neem wood. It is a Balaji Show Piece for home decor, which is 8 x 5 x 17 inches. Such home decors of Lepakshi are pretty expensive.
Lepakshi is an Andhra Pradesh Government EnterpriseWooden Ganesh Idol. It is a hand-carved Lord Ganesha Wood Sculpture which is a showpiece/home decor. It is a hand-carved showpiece- God of Prosperity and Fortune. It is also available but at a high price. It is Eco friendly; it adds no pollution to the environment. An appealing and straightforward piece of art can be placed anywhere in the house or office for decoration.
CONCLUSION
Lepakshi is archaeologically and culturally significant as it is the shrines of Lord Shiva, Vishnu, and Virbhadra. The temples are at the location of mural paintings of the Vijayanagara kings and Telugu inscriptions. Visiting the historic place with amazing ancient stories connected to the temple or the place would be an amazing experience in itself.
To know where Lepakshi is, how to reach there, and how much time it will take to reach there, every answer is available here. This article will help you know the Indian culture, ancient sculptures and explore this ancient place. Here's all about Lepakshi that could be included. I can hope that this article will help you go to visit this historic and amazing temple.